"A High Point of My Career!"
---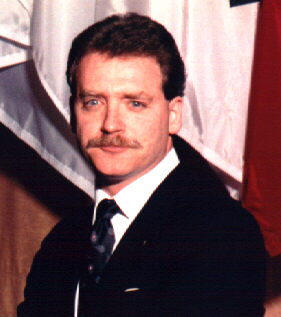 Looking Proud At Quantico!
180th Session, FBI National Academy
January 8 - March 24, 1995
---
FBI NATIONAL PRESS OFFICE, March 24, 1995

Director Louis J. Freeh announced the graduation today of 259 state, local, and foreign law enforcement officers from the FBI National Academy at Quantico, Virginia.
The National Academy program offers 11 weeks of advanced investigative and management training for law enforcement officers who will return to their agencies to serve in executive-level positions.
In his commencement speech, Freeh called for greater cooperation among law enforcement agencies in the United States and throughout the world.
"The National Academy's goal is to enhance the ability to experienced law enforcement personnel to protect the people and fulfill their responsibilities within a democratic society," Freeh said. "Such a cooperative law enforcement network is essential, given that crime is becoming more complex and international.
"The FBI believes that bringing police officials together from across the United States and around the world to the National Academy program fosters a closer relationship and a greater appreciation for the American process of policing in a democratic society," Freeh added.
This 180th session of the National Academy included men and women from 48 states, 24 countries, the District of Columbia, and Puerto Rico.
The graduating class spokesman was Captain Stephen Ross of the Torrance, California, Police Department. A total of 27,936 persons have graduated from the Academy since 1935, and of this number, more than 17,000 are still active in law enforcement.
---